EDEN C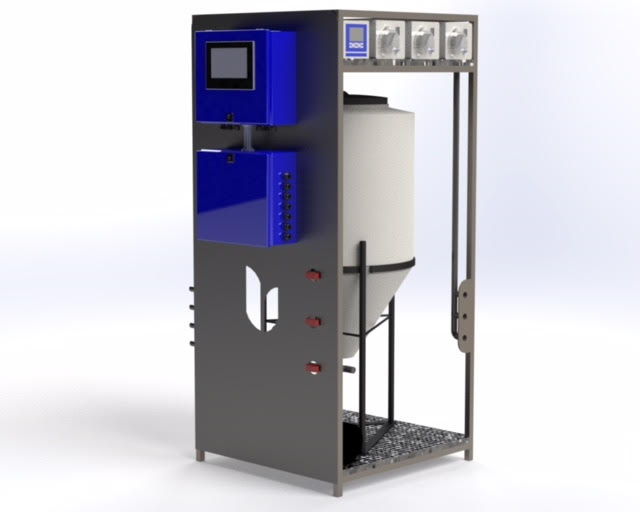 The Eden C environmental control system, powered by TGC, combines high-quality components and construction with easy to use plug-and-play functionality. Offering complete control for smaller grows, Eden C's proprietary control system doesn't require complicated programming—simply plug the system in and use the intuitive touchscreen interface to begin controlling nutrient and water delivery, capturing environmental data, and controlling lights in your cultivation facility.
Facilities with 1-2 Rooms




Skid Mounted 110V Plug-and-Play

Fits Through Standard 60" Doorway

Batch System – Up to 4 Nutrient Zones

Touchscreen and Mobile Interface
EDEN C HIGHLIGHTS
Pre-wired CO2/RH/Temperature Environmental Sensors with light detection – 100 Ft. cable each
55 Gallon blend tank w/ ultrasonic level sensing and Nutrient Verification loop
Precise EC and pH control with verification/validation prior to delivery
No additional controllers are needed for environmental control… Built in Eden controller!
Wide range of soil/substrate applications
Metered Nutrient blend delivery to crops
4 independent nutrient feed valves
20 pre-programmed recipes for automatic Blending/Nutrient Delivery
Reliable self-priming peristaltic pumps (4 Nutrient and 2 pH pumps)
EDEN Environmental Control platform
Stainless Steel, corrosion-resistant frame
Water Temperature monitoring
Built around a standard platform
High-quality components
Minimal investment requirement
Eden C
Platform

Batch
Weight

955 LBS. (Approximate)
Tanks

60 Gallon Conical Tank
Room
1-2
Requirements

Water: 15-20 GPM
Electric: 20Amp, 220-240VAC, 1Phase
Cat 5 (Ethernet Cable)

Programmable Alerts

Yes
Program Required

Plug and Play
Nutrient Zones

4
Mounting

Skid
Monitors & Controls (Environmental Sensors included)

pH, EC, Temperature, CO2, Air temperature, Humidity, Light

Mobile Interface

Yes
Mixing Pumps

4 Nutrient Pumps, (optional 2 additional nutrient pumps), PH up and down pumps
Mixing / Verification Loop & Sensors

Yes
Flow Meters

Inlet and outlet flow meters
Display (size)

9 PCL Based with HMI Touchscreen
Dimensions

32"W x 32"D x 60"H
Customizable

No